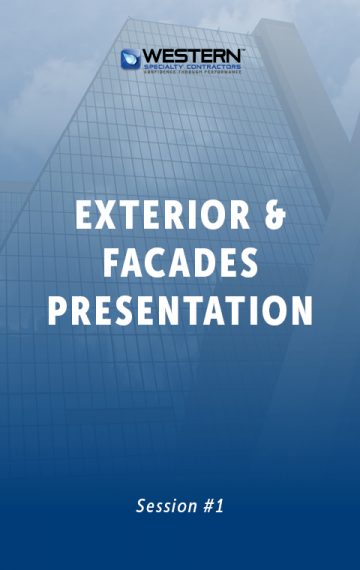 Publisher:

Western Specialty Contractors

Available in:

PDF
Download
As we continue to grow and strengthen the collaborative efforts between Cushman and Western, we hosted a three-series training for both the Engineers and the Property Management Teams focusing on the content of the six Learning Platform modules. Western partnered with RoofTech/PaveTech Consulting to provide in-depth training on the topics below. Attached is a copy of the material presented.
Session 1: Intro to Western and Facades

Topics: Overview of Western, Cushman/Western Partnership, Caulking & Sealants, Strategic Maintenance for Masonry Buildings

Session 2: Concrete Work

Topics: What you need to know about Deck Coatings, Parking Garage Maintenance and Preventative Maintenance for Concrete Buildings

Session 3: Roofing and Specialty Work

Topics: Roof Asset Management and ACM Panels
Each session consisted of:
Brief intro on the presenters
Training on the specific topic with a subject matter expert as the speaker
"Tidbits" to takeaway
Click "Download" to review the presentation.